FREE SHIPPING!!
EVERY CUSTOM MIRROR ON SALE
Buy 1 Save 5% - Buy 2 Save 10% - Buy 3 Save 15%
Framed Or Frameless: Buy The Same Style And Color - Any Size!!
CUSTOM BATHROOM MIRRORS - VANITY MIRRORS
Personalize Your Bathroom - Create A Mirror By Color Style And Size
Hundreds of Options - Follow The Links Below








Design A Mirror To Perfectly Fit Your Bathroom Decor And Budget.
Since 2001 we have been personalizing custom bathroom mirrors of any size - one at a time. Choose framed or frameless bathroom mirrors - We ship to every state in the country and guarantee safe delivery.
This page features links to Selected Styles of Popular Bathroom Mirrors. To see our Complete Offering Of Custom Mirrors visit the CUSTOM MIRROR HEADQUARTERS MENU. Note that Every Mirror from that menu Can Also Be Used in the bathroom.
Questions: Contact Us || Call Toll Free: 888 208 4848
Your Choice - Framed Or Frameless - We Make Custom Bathroom Vanity Mirrors To Your Size
Shop For Custom Vanity Mirrors By SIZE
We fabricate framed custom vanity mirrors in every size - and can help you create just the right size for your bathroom. We work with the outside measurement - in that way we know it will properly fit the area in your bathroom.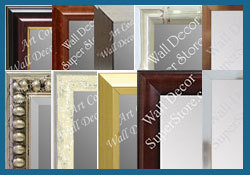 These frames are perfect for creating just the right size to fit a small space.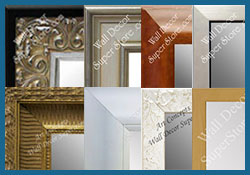 Bathroom Mirror Frames In Many Widths

Shop Less than 1 inch to over 4 inches wide.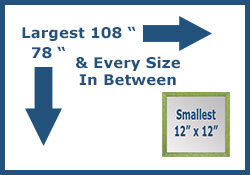 Bathroom Mirrors - Outside Frame Size

Shop Very Small To Extra Extra Large.
Custom Bathroom Vanity Mirrors By COLOR
Over the years we have learned a lot from our interior design clients. When shopping for the color of a bathroom vanity mirror, we have been shown two simple tricks that open up many additional choices.
Instead of trying to find an exact match to a specific color consider a frame that has a gradation of color - BOTH darker colors and lighter colors in your color palette. Your color will fall within that range and coordination will be much easier.
Consider working with the bathroom fixture color instead of the vanity cabinet or wall color. This can create a great visual impact.
Shop For Custom Bathroom Vanity Mirrors By STYLE
The style of a mirror frame can dramatically change the look of a bathroom. From modern and contemporary to aged driftwood and shabby chic these frame styles offer a wide range of choices to personalize your bathroom vanity mirror.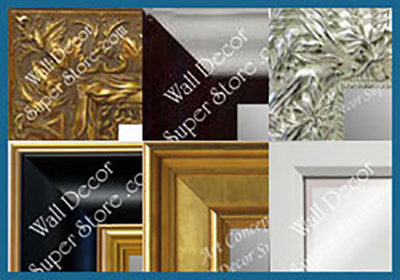 Decorative Bathroom Mirror Frame Styles

Ornate, Modern, High Gloss, Formal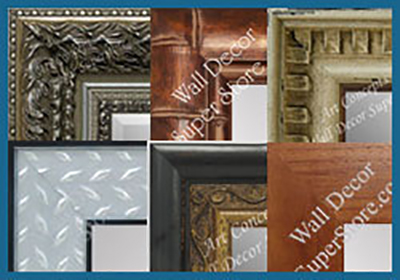 Decorative Frame Styles

Tropical, European - Old World, Industrial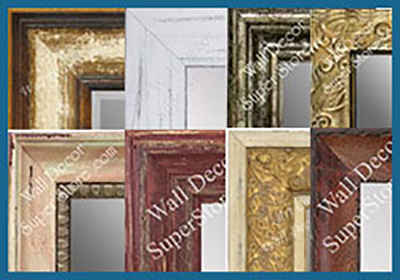 Distressed Bathroom Mirrors

Shabby Chic, Barnwood, Driftwood, Burlwood
Frameless Custom Vainty Mirrors
Our Mirrors - Framed Or Frameless - Are Premium Clear High Quality Mirrors And Work Great When Placing Above A Bathroom Vanity. We Finish The Edges In your Choice Of A Traditional Flat Polished Or Beveled Edge.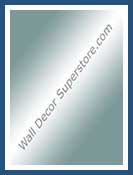 Style CFM300
Up to 20 SQ Feet

Contact Us Over 20 Sq Feet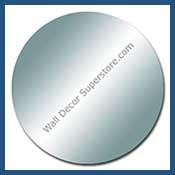 Style CFM302
Up To 15 Square Feet

Contact Us Over 15 Sq Feet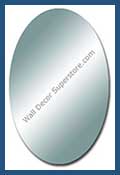 Style CFM304
Up To 15 Square Feet

Contact Us Over 15 Square Feet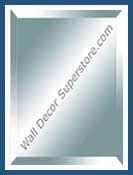 Style CFM301
Up to 20 Sq Feet

Contact Us Over 20 Sq Feet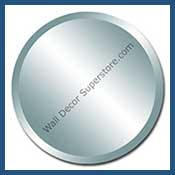 Style CFM303
Up To 15 Square Feet
Speciality Custom Mirrors - Create Unique Personalized Mirrors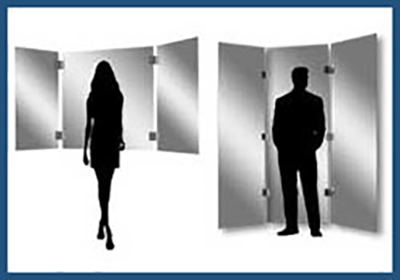 Custom Frameless Three Panel Mirrors
Any Size - Full length Or Counter Top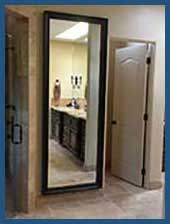 Wall Mounted Or Leaning
Bathroom Wardrobe Mirrors
Choose Any Size - Fit Any Space.
Art Concepts Wall Decor Superstore offers a wide selection of options for custom bathroom vanity mirrors of any size - very very small - to extra extra large. We manufacture mirrors in our Southern California factory and guarantee safe delivery throughout the USA.
We can help create a custom bathroom vanity mirror to fit your individual needs. We offer thousands of mirror frame styles in our Southern California Mirror Warehouse Store. Although we show hundreds of frames on our web site, we have many more options. Please contact us if you cannot find a style or size you need.

Contact Us Today | 888 208 4848 | Email: Sales@ArtConceptsStore.com | Fax 949 837 6751